This course is designed for individuals seeking to use a rigorous, systematic methodology known as DMAIC (define, measure, analyze, improve, and control), as well as several qualitative and quantitative tools. Its goal is to drive process, product, and service improvements for reducing variations and defects.
Due to the utilization of MiniTab, the Green Belt course requires participants to have access to a PC.
Please Note: This class may be cancelled if minimum enrollment number is not met.
We provide a verifiable and secure digital credential for this certificate completion, symbolized by a badge that is sharable with career networks. The digital badge serves to signal achievement to current and/or potential employers; to motivate engagement and collaboration; and to build upon and formalize identity, reputation, and value within educational and professional communities.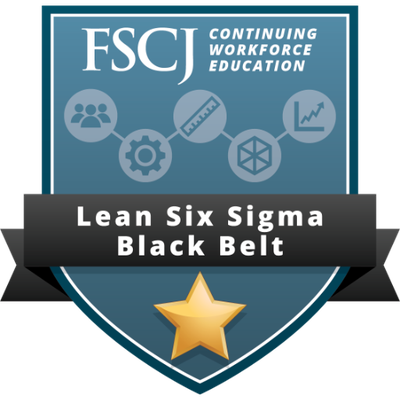 Meet our Instructors
Faris Kishek -
Faris Kishek is an Adjunct Instructor at Florida State College at Jacksonville where he teaches in the areas of Project Management, Six Sigma, Logistics, Operations Management, and Supply Chain Management. He also works as a Project Manager at McKesson Corporation, a Fortune 500 pharmaceuticals and medical supplies distribution. At McKesson, Faris received his Lean Six Sigma Black Belt certification. As a Black Belt, Faris led high complexity, cross-functional process improvement projects, mentored and coached Green Belts on projects, and trained hundreds of Yellow Belts and Green Belts on Lean and Six Sigma methodologies.
Faris achieved a Bachelor in Business Administration degree, with a concentration in Transportation and Logistics, from the University of North Florida. Also, he achieved a Master of Business Administration degree from Jacksonville University.