The Financial Aid Shopping Sheet
The Financial Aid Shopping Sheet is designed to help you assess your total cost of attending FSCJ. Using a simplified format, the sheet presents information about your available financial aid, net costs, and how much you should expect to pay out-of-pocket. This information should be used to help you compare financial aid packages offered by different institutions.
You will be able to access the shopping sheet in myFSCJ after you have been awarded aid for the requested academic year.
Sample Shopping Sheet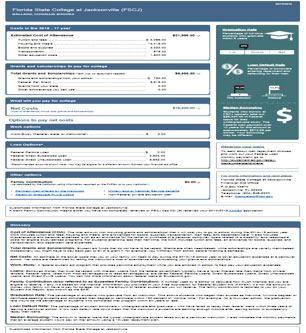 **The figures noted in the shopping sheet are based on estimates; your specific costs may differ from the information provided.