Nathan H. Wilson was appointed by Governor Bob Graham to the Florida Community College at Jacksonville* District Board of Trustees in 1984. He was elected unanimously as Board Chairman at his first meeting. He went on to serve four terms as Chairman before leaving the Board in 1989. Wilson's tenure on the Board was marked by vision and perseverance.
Building on the foundation created when he chaired the city's Community Relations Commission (1968 to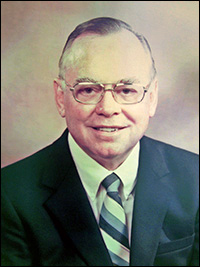 1976), he forged a strong bond between Florida Community College at Jacksonville* and Jacksonville's African American community, establishing scholarships for minority students and the Minority Incentive Talent Grant to attract African American students pursuing the fine arts at Florida Community College at Jacksonville.* Wilson is also considered the father of the Florida Community College at Jacksonville* Foundation's African American History Scholarship Banquet which funded 150 scholarships of $1,000 each and other minority outreach activities in 1994.
To honor Wilson's commitment to community relations, Southern Bell endowed Florida Community College at Jacksonville's* first chair in 1989: the Nathan H. Wilson Chair for Community Leadership in Minority Affairs. Wilson himself established a personal endowment to create the Trustees Award for Full time Faculty community Service which continues today.
Wilson's commitment to the arts is legendary. He was a director of the Arts Assembly of Jacksonville for more than a decade, serving as its president in 1978 through 1979.
The list of accolades he has collected is voluminous by any standards: winner of the 1992 Volunteer Jacksonville Community Service Award; 1990 recipient of the National Conference of Christians and Jews Brotherhood Award; the Book of Golden Deeds award, given by the Exchange Club of Jacksonville; the Distinguished Service Award, given by the Episcopal Church; and two awarded by the urban league, one for his work in community relations and one in the field of human and civil rights.
*Florida Community College is now Florida State College at Jacksonville