Blog Entry Details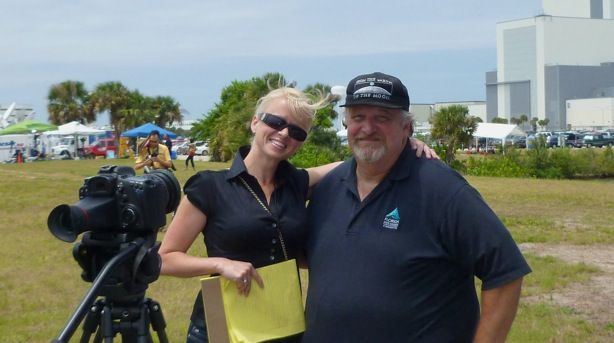 Covering the Final Space Shuttle Mission

Dr. Mike Reynolds is covering NASA's last space shuttle launch in history for Astronomy Magazine. He'll be joined by two of his former students who are currently reporters for Campus Voice, Florida State College at Jacksonville's student-run newspap
Covering the Final Space Shuttle Mission
Dr. Mike Reynolds is covering NASA's last space shuttle launch in history for Astronomy Magazine. He'll be joined by two of his former students who are currently reporters for Campus Voice, Florida State College at Jacksonville's student-run newspaper.
By Michael Reynolds Tue, June 28, 2011 4:16 pm EDT
Florida State College Network profiled Dr. Reynolds for our new series FOCUS ON FACULTY at the final launch of Space Shuttle Endeavour. As we anxiously await the July 8th launch of space Shuttle Atlantis STS-135, Dr. Reynolds is keeping us up to speed on what's happening behind the scenes at the Kennedy Space Center.
SUNDAY, JULY 10, 2011
The Emotions…
With STS-135 safely in orbit, I began to personally reflect on what this last-of-an-era launch and mission means to me as well as to the leader in space exploration: the United States of America. I have been very fortunate in being present for some 65 Space Shuttle launches from the Kennedy Space Center. Most were from the Press Site; a few from the NASA Causeway site when I used to teach high school at Fletcher Senior High and bring students down for launches.

I was fortunate enough to be there for many milestones: STS-1, the first shuttle launch on April 12, 1981; STS-7, Sally Ride – the first American female in Space, STS-8, the first night launch and first launch of an African American – Guy Bluford, the Hubble Space Telescope launch in 1990, and many others. After seeing the Challenger accident, I stood there and held my breath as Rick Hauck and his crew took Space Shuttle Discovery up as the return-to-space launch after that tragedy.

As a NASA teacher-in-space National Finalist I got to know most of Challenger's final crew. I remember how serious Dick Scobee and Mike Smith were; Judy Resnick was so outgoing and what I have described as "alive" with spirit and an enjoyment of what she was doing. And of course teacher Christa McAuliffe, who carried the dreams of not only a group of teachers but of many American children and children around the world with her. It is hard for me to believe that the Challenger accident was over 25 years ago, January 28, 1986.

After Challenger unfolded and everyone began to try to pick up the pieces, we became close friends with Greg Jarvis' father Bruce and his stepmother Ellen. They dedicated themselves to personally placing small business cards on the windshields of cars who were proudly displaying Florida's new automobile Challenger tag. As Bruce would talk about his son Greg and his dreams for flying as an engineer for Hughes aboard Challenger's last mission, I gained a keen and personal insight into the personal part of spaceflight and the Challenger tragedy.

I have watched the public space interest wane in the years following the initial Shuttle launches and excitement surrounding this most-unusual flying machine: a combination rocket-spacecraft-cargo carrier-airplane/glider. A testament to the Shuttle's lasting triumphs was the number of people – many ordinary folk like you and me – who came to Florida's Space Coast to see this final Shuttle launch. Maybe the government support of U. S. human space exploration is at an end, but certainly not that of many of its citizens.

I sat down by my equipment once Atlantis had blasted through the cloud ceiling. A deep sigh … and a realization that an era in human exploration was coming to a close, but not without its tragedies. Hail Columbia and Challenger and their brave crews. Goodbye Discovery, Endeavour, and Atlantis… and thanks!

FRIDAY, JULY 8
T-31 seconds and holding … and counting!
It was one of the most surreal countdowns and launches I have witnessed. In spite of the weather forecasters' best prognostications, the weather continued to improve up to launch. The conditions were right on the edge of being no-go; the Shuttle Training Aircraft, or STA, continued to make approaches to the Shuttle Landing Facility literally up to launch. The last mission director "go" for launch was for the conditions at the Shuttle Landing Facility.
As the countdown picked up at T-9 minutes, there was an almost electric feeling in the air. This reminded me of some historic shuttle launches like the first shuttle launch, the Return to Space launches of Discovery after the Challenger accident and the Columbia accident, and the Shuttle-Hubble Space Telescope launch. Yet having covered many a shuttle launch, I knew that this one was not a done deal until the historic countdown clock reached T-0 and the two Solid Rocket Boosters ignited.
We passed milestones like Auxiliary Power Unit start, one that had been problematic in past Shuttle launches. As we approached the T-3 minute mark, the oxygen valves on External Tank, or ET, closed as directed and the gaseous oxygen vent hood, or the "beanie," began to lift and move away from the ET and Shuttle.
At T-31 seconds, the system goes to what is called Auto Sequence Start; the Shuttle's computers take control and monitor systems for launch. Many a launch has been scrubbed at T-31 seconds or even closer to T-0 when the computers detect a problem and hold the launch. No sooner had George Diller, the voice of Mission Control, said "go for Auto Sequence Start," did the computers hold the launch at T-31 seconds. As soon as this happened I thought "oh well, a scrub for today…"
But NASA flight managers had another train of thought: let's fly today! They identified the problem as a computer detection of the beanie not being fully retracted. Not retracting your beanie is a bad thing; the Shuttle can literally run into the gaseous oxygen vent hood and that would make for a very bad day. Flight managers quickly assessed the problem: a computer glitch. The gaseous oxygen vent hood had properly retracted, yet of the computers had mis-assessed the position of the beanie. And so the count was resumed at T-31 seconds. Understand that the launch window was very short, and if the managers and engineers had not done a spectacular job working and solving the problem, the launch attempt would have been scrubbed for today.
At T-6.6 seconds, the three Space Shuttle Main Engines came to life, and at T-0, the two Solid Rocket Boosters ignited; Atlantis was on its way and the last Space Shuttle of an era had blasted off.
Next: the emotions of today's final space shuttle launch… and photos to follow -- look like some of the best I have ever taken.
T-3 Hours and Counting…

I left my hotel in Orlando (could not get a room any closer than that!) at 5:45 a.m. Traffic was heavy but moving at the speed limit … until I got to Gate 2. It took me over 30 minutes to get through that security check point, with two more to go.
Pelican patiently perched by the Press Site
Arriving at the press site around 7:30 this morning, it did not seem as crowded as I expected. (Press at the earlier shuttle launches, like STS-1 in April 1981, were larger, I think.)
The weather actually is improving; there is a bright light to the east – the Sun! Yet the forecast is still for only a 30% chance of launch today. The Florida State bird – the mosquito – is out in force!
The STS-135 crew went by the press site in their AstroVan at 7:46 AM this morning, to the cheers of NASA employees and press alike. STS-135 Commander Christopher Ferguson was quoted as saying "let's get this show on the road" as they left for the launch pad.
The Shuttle Training Aircraft, or STA, has just started to make its approaches to the Shuttle Landing Facility. Flown by astronauts, they check to see if conditions are favorable to a landing at the Shuttle Landing Facility in case of a Return to Launch Site Abort.
I am almost finished setting up my imaging equipment: an Explore Scientific 102mm APO with a Canon EOS 5D Mark II for imaging. I will also be using a couple of Cisco Flip-Cams to record "the moment." Maybe it's just a dress rehearsal today.
The Press Site patiently waits word of the Shuttle Launch

More updates as the morning progresses!

It's 4:26 a.m. -- not only am I not up but the STS-135 astronauts also just got up! I would think theirs was the more-important wake-up call.

The decision was made by NASA Managers at 1:30 a.m. to go ahead with the "tanking;" that is, filling the huge External Tank (or ET) with liquid oxygen and liquid hydrogen. Mission managers discussed options, even though the weather prospects continue to be poor at best.

So I am heading over to the Press site -- hopefully a little before the crowds -- to get settled in for this morning's launch attempt.

THURSDAY, JULY 7, 2011--
1:49 p.m.
THIS JUST IN!

The space shuttle launch team is evaluating a possible lightning strike within one third of a mile from Launch Pad 39A at NASA's Kennedy Space Center. Engineers will review data to determine if the lightning affected space shuttle Atlantis or any of the pad's ground support equipment. A continuing band of thunderstorms has prevented teams from conducting a detailed pad inspection, which must be performed before the Rotating Service Structure can be rolled back from the shuttle.

THURSDAY, JULY 7, 2011
As I stood at the Press Site today at 11:26 AM, the rain was falling steadily, heavy clouds, and even some lightning. And that's the summary for tomorrow's weather forecast for the first STS-135 launch attempt.
Heavy clouds behind the Vehicle Assembly Building (VAB)

At this morning's countdown status briefing, Kathy Winters, shuttle weather officer, said the odds of good weather were still only at 30%. The shuttle's rotating service structure, or RSS, would be rolled back later than scheduled to afford maximum protection to the orbiter, external tank, and two solid rocket boosters.

Countdown clock -- almost obscured due to the rain.
There was also discussion about making a "go-no go" call around midnight to even make a launch attempt tomorrow. The feeling at the countdown status briefing is if the weather does look like it will be poor they will go ahead, scrub for tomorrow around midnight and reschedule for Sunday when the weather is supposed to be much-more promising.

The press site is very busy; reminds me of the early Shuttle days. I went to several press conferences; from the countdown status review to a press conference in regard to Dreamchaser, a future private enterprise manned spacecraft.
In spite of the weather, the NASA Press Center is quite busy.
WEDNESDAY, JULY 6, 2011
At T-2 days all is a go; NASA engineers and technicians are not working any problems with the orbiter at this time.
The only issue as of right now is potentially the weather; forecasters are predicting a 60% chance of showers and possible thunderstorms that would trigger a delay. This is due to "the potential for showers and isolated thunderstorms in the area," according to Kennedy Space Center Weather Officer Kathy Winters. There are specific weather constraints for launch, from no thunderstorms within 20 miles to crosswind maximums at the Shuttle Landing facility in the case of a Return To Launch Site (RTLS) abort.
The weather forecasts for Saturday and Sunday look improved; 60% acceptable on Saturday and to 70% on Sunday. Atlantis must launch by the Sunday, July 10 window, otherwise the next opportunity for a launch attempt will not be until July 16th due to the planned launch of a military navigation satellite from the nearby Cape Canaveral Air Force Station.
Tomorrow's notes will be "live" from the Kennedy Space Center!

TUESDAY, JULY 5, 2011
The countdown clock started at 1 p.m. this afternoon for Friday's launch of STS-135. All systems are a go as of right now! Weather might be the only factor. It's a shame today wasn't the day; at 11:26 a.m. the skies were clear and blue.
I stopped by one of the local space vendors to pick up a couple of very-nice STS-135 polo shirts. We started talking about business and I asked them "what's next for you – after the shuttle?" The owner noted her sadness of the end of an era and said she hoped to keep going by providing dive shirts!
I was down at Kennedy Space Center this morning picking up my press credentials. NASA is expecting over 3,000 credentialed media for the launch and mission of Atlantis, the Space Shuttle's final mission. This rivals the number of press representatives for Apollo 11 and the first shuttle launch, that of STS-1, Columbia in 1981.
Note that accreditation is very busy. Seems that not all of the press accreditation requests have been fully approved. NASA is recommending picking up press accreditation early and allowing four hours to navigate the area before launch!

MONDAY, JULY 4, 2011
The STS-135 Astronauts arrived at the Kennedy Space Center right on time today in their T-38 jets. Always a good sign when the crew arrives!
SUNDAY, JULY 3, 2011
Good news! Engineers continue to work no issues. And the weather prognostication by US Air Force meteorologists continue to look go for the 8 July target date.
The STS-135 crew arrive at the Kennedy Space Center tomorrow, July 4th. Seems appropriate, eh?
THURSDAY, JUNE 30, 2011
System-wise all is "nominal" with engineering working no problems. In fact it is going so good most are taking a three day weekend – including July 4th!
Shuttle Atlantis' payload bay doors are now sealed for flight – The 60-foot-long payload bay doors of space shuttle Atlantis were swung shut and latched for flight at pad 39A Wednesday. The next time the doors will be opened is in orbit, about 90 minutes after launch.
Atlantis' four astronauts are scheduled to arrive at the Kennedy Space Center on Monday, July 4 at 2:45 p.m. EDT. Countdown clocks in the launch control center begin ticking Tuesday, July 5 at 1 p.m. EDT.
Weather Note: It's still eight days out … but the long range forecast isn't great. 60% chance of thundershowers (well, it is Florida in the Summer!).
TUESDAY, JUNE 27, 2011
2:49 PM EDT "NASA formally sets July 8 for final shuttle launch -- Today's Flight Readiness Review has concluded with a unanimous "go" for launch of Atlantis
MONDAY, JUNE 27, 2011
Inspections of space shuttle Atlantis' external fuel tank have verified that the ship is crack-free and ready to launch. Modifications to the ribbed intertank region between the liquid oxygen and liquid hydrogen sections of the external tank were implemented to strengthen support beams, some of which cracked on the previous tank used by Discovery in February. A special fueling test on Atlantis earlier this month subjected the beefed up tank to cryogenic conditions as a precautionary step to see any cracks would develop. Digital X-rays taken this past week confirm no problems exist.
Meanwhile, retesting of main engine No. 3 after the hydrogen fuel valve was replaced has been accomplished. Technicians have begun buttoning up the engine and the orbiter's aft compartment now after running the readiness test and pumping helium through the system to look for leakage.
Atlantis' astronauts are kicking off their final week of training in Houston today by conducting re-entry simulations. They go into pre-flight medical quarantine on Friday, then fly to Kennedy Space Center next Monday.
At the conclusion of the FRR the launch and management team will confirm the 8 July launch date -- or announce a new target date. So more later today or tomorrow!
Check out NASA's coverage of the final space shuttle mission.
Keep looking up!
Return